A FEW WORDS ABOUT US
The Bailey on Duke Street is a Dublin institution. Great for lunch and dinner but even better for sitting outside, sipping a cocktail, whiskey or prosecco and watching busy Dublin scurry by.
As there are lots of offices closeby, the Bailey fills up and it's a wonderfully eclectic mix of young Turks and more world-weary clientele.
It's always been a busy bar but there are few nicer places in the world to be than here on a quiet, wet mid-week afternoon with a book or newspaper.
OUR STORY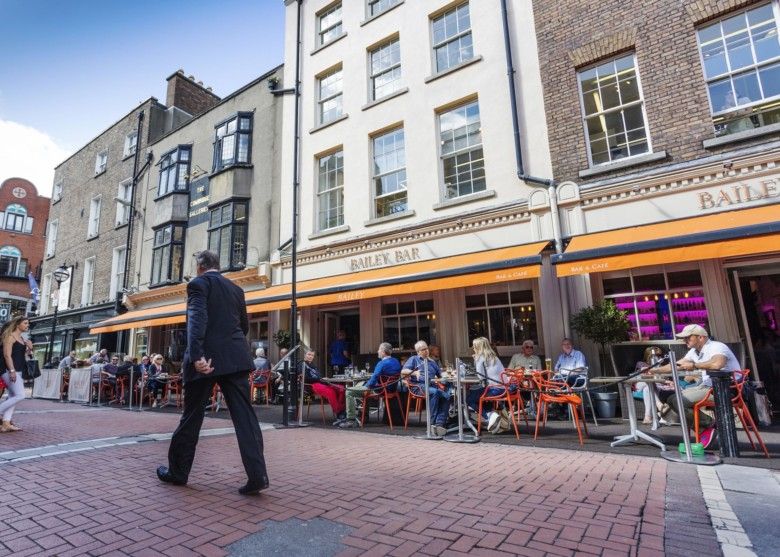 The Bailey pub, formerly The Maltings, had always been a hub of literary and political activity. Prior to John Ryan's acquiring it, it had welcomed international artists such as Evelyn Waugh, John Betjeman, and Charles Chaplin, as well as being popular with local figures like Oliver St. John Gogarty, Pádraig Colum and Thomas Kettle. Charles Stuart Parnell, leader of the Irish Parliamentary Party, frequently met with his supports here, and Arthur Griffith, founder of Sinn Féin, spent his evenings in the pub after long days at the nearby National Library on Kildare Street.
Under John Ryan's direction the pub again became fertile ground for artists and writers in the 1950s and 60s. Ryan maintained close relationships with all of the significant figures of this period, such as Patrick Kavanagh, Samuel Beckett, Brendan Behan, Brian O'Nolan and J. P. Donleavy, many of whom he also supported financially.